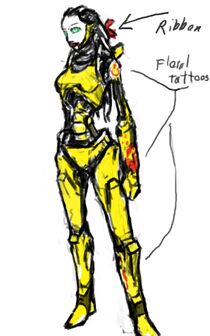 Sandy Circuits, femme fatale, heartbreaker, and on-again off-again girlfriend of Mickey Mech. Before Mickey, she was always a nice, humble girl who did her homework. After she met Mickey, that all changed, and after she left him sobbing at the drive-in, alone and a fool, she certainly didn't change back. Now she's a bad girl, hanging with the Bitly crew and plotting the downfall of Gary Gears and his friends.
Likes: Mickey Mech
Dislikes: Mickey Mech
Ad blocker interference detected!
Wikia is a free-to-use site that makes money from advertising. We have a modified experience for viewers using ad blockers

Wikia is not accessible if you've made further modifications. Remove the custom ad blocker rule(s) and the page will load as expected.